The Burrell Collection wins the 2023 Art Fund Museum of the Year Award!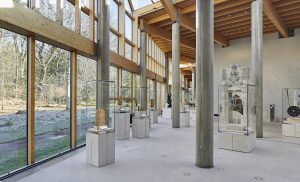 We are delighted to announce that The Burrell Collection has won the prestigious Art Fund Museum of the Year 2023 Award. The Art Fund prize is the world's biggest museum prize, and it is celebrating its tenth year this year.
The Burrell Collection in Glasgow's Pollok Park showcases one of the world's greatest collections of fine and decorative arts, in its revamped state-of-the-art settings.
Mary Beard, broadcaster and Art Fund Museum of the Year judge, said: "The Burrell Collection is a treasure trove of objects to discover, with everything from one of the UK's most important collections of Chinese art, to medieval tapestries and stained glass, and works of art by Rembrandt, Degas and more."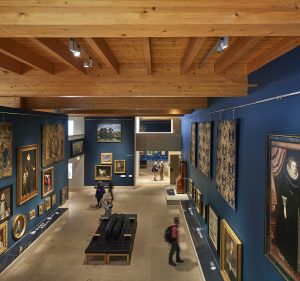 Jenny Waldman, The Art Fund director praised the "sensitive renovation" and said "The Burrell Collection is extraordinary — a world-class collection displayed in an inspirational building, in harmony with the surrounding landscape of Pollok Country Park."
Atelier Ten delivered the building services engineering, fire engineering, lighting design, energy analysis, environmental design and BREEAM for this project. The 6-year, £68 million pound refurbishment's key ambition, alongside being able to increase the amount of exhibit space, was improving its environmental performance.
This was delivered by improving the building fabric, so reducing the demands placed on the energy systems in the museum. The two greatest fabric elements forming The Burrell Collection's protective jacket are glass elevations and the flat roof, and this is where the most significant improvements were made.
Other improvements include the addition of photovoltaic panels that produce zero carbon electricity for the site. A battery will be installed to absorb electrical charge either via the photovoltaic panels or the national grid when tariffs are low and this will feed the electric buses in the car park.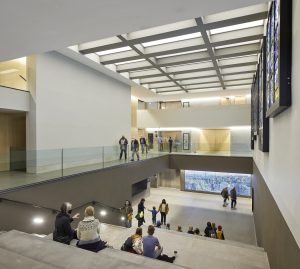 Waste heat reclamation methods ensure most of the heat in the ventilation stream is recovered and passed back into the air supply. These fundamental measures help reduce reliance on mechanical plant and therefore energy usage.
The aim was to make The Burrell Collection as sustainable as we could foresee while planning this refurbishment in 2016. We hope the project will ultimately receive a BREEAM excellent rating, one of the first museums (if not the first) in Scotland to be recognised this way.
The Burrell Collection was one of five outstanding museums shortlisted for this prize. The other four were Leighton House in London, The MAC in Belfast, the Natural History Museum in London and Scapa Flow Museum on the Island of Hoy. Congratulations to all the other nominees!