Shaping a more sustainable London
In what has been described as humanity's last chance to tackle climate change, COP26 is urging leaders across the globe to take immediate action to secure global net zero by 2050. There is, at last, an emerging sense of urgency that the climate crisis is upon us.
Earlier this month, ahead of COP26, we joined forces with more than sixty other large and influential international architecture, engineering, planning, and construction firms to sign the COP26 Communiqué that issued a challenge to government leaders to step up their emissions reductions targets to avoid the worst impacts of climate change.
Whether it be newbuild or retrofit, we are proud to be working on some truly sustainable projects in the capital, contributing to the decarbonisation of the grid and helping London to achieve its sustainability goals for a better future.
Here are some of our project highlights:
Setting a new standard for healthy offices: Edge London Bridge
Working in collaboration with architects Pilbrow and Partners, the smart office building, Edge London Bridge, has been designed to deliver exceptional levels of sustainability alongside exemplar internal healthy environments.
The newly approved sustainable office tower will be an all-electric building with no fossil fuel or gas supply, putting it at the cutting-edge of low carbon design. The absence of flue gas emissions will improve local air quality and the integration of heat pumps in the building will efficiently generate heat and cooling and optimise heat recycled. The design features exceptional air quality, adaptable shading to control daylight levels, and low-energy 'climate islands'. Smart building sensors and controls will optimise energy and operational efficiency and give occupants the agency of localised personal control.
The predicted carbon emissions are approximately half that of a regulatory compliant building and the development has an embodied carbon profile significantly below that of a traditional office build. The scheme is currently on track to receive BREEAM Outstanding and WELL Platinum.
From Hospital to Town Hall:
Adapting and Reusing a Grade II-listed building
We are currently working for client London Borough of Tower Hamlets as part of the AHMM-led design team working on the extensive regeneration of Tower Hamlets Town Hall. The ultimate adaptive reuse project, the team's designs restore and repurpose a Grade II listed former Royal London Hospital building, parts of which date to 1757. The project works to consolidate local government services in one accessible location in the heart of the constituency.
The aim is to balance the competing demands of function, comfort, and energy-use by selecting systems that are effective and efficient. Given the building geometry and intended occupant density, mechanical ventilation and comfort cooling systems are proposed throughout, while services distribution will be at high-level, and openly exposed.
Greening the Way:
Building an Urban Forest at Blackfriars
Granted planning late last year, Roots In The Sky from developer Fabrix sees the reimagining of the former Blackfriars Crown Court as a next-gen workspace, and will incorporate a 1.4 acre urban rooftop forest.
The scheme, a first of its kind in the capital, will have over 100 established trees and 10,000 plants and provide extensive access for the local community and the public, with community gardens and collaborative neighbourhood uses, while making a significant contribution to London's ambitious targets for greening, biodiversity, and sustainability.
Working with the design team we provided environmental design and building services engineering, along with lighting design and fire engineering – all with a particular focus on embodied carbon and operational energy. The building will have best in class environmental and wellbeing accreditations including BREEAM Outstanding and WELL Platinum, while 25,000 square feet is dedicated to affordable workspace.
Reducing Embodied Carbon on a Next-Gen City Workplace
2-3 Finsbury Avenue is in the City of London's Broadgate campus. Working with British Land and Danish practice 3XN, the development aims to be an exemplar of contemporary sustainability, setting the standard for office towers in central London. Designed with behavioural scientists from 3NX's research arm, GXN, each of the office spaces are designed to ensure future flexibility.
To achieve the goals set out by British Land's Sustainability Brief, we are currently looking into the whole-life cycle carbon analysis of the building, including both operational carbon related to the building's energy use, as well as embodied carbon emitted during the manufacturing, production, and delivery of the materials used in the construction. Alongside the rigorous brief from British Land, the team is also targeting BREEAM Outstanding to office and open learning hub, BREEAM Excellent to retail and WELL Platinum enabled to all spaces.
We believe that an embodied carbon label for buildings would promote the use of sustainable materials and strategies and bring a much-needed transparency to the field, which can drive the competition, innovation, and transformation of our industry to absolute zero carbon.
Bringing Renewable Technology to a Brutalist Icon
Another significant adaptive reuse scheme that we are working on in London is the iconic Grade II* listed Space House. Designed in the 1960s by Richard Seifert & Partners this brutalist building was originally built speculatively. For many years it was the headquarters of the Civil Aviation Authority before being sublet to organisations including the UK Commission for Architecture and the Built Environment (CABE). This landmark building is best known for its circular form and the striking exoskeletal pre-cast concrete façade.
Working with visionary developer Seaforth Land and our long-time collaborators Squire & Partners, the comprehensive redevelopment of this landmark building involves significant building fabric and technical upgrades, the repurposing of basement from car parking to bicycle parking and associated facilities, a small increase in floor area, and the creation of vibrant new public amenity spaces on the lower levels.
The building is tracking a BREEAM Outstanding certification – the first listed commercial building in the capital to achieve this. Our design removes the old carbon-emitting systems and replaces them with electric heat pumps for both heating and cooling. Mixed mode ventilation, highly efficient radiant systems and LED lighting throughout together reduce the energy usage by up to 70% and the building will be powered by 100% renewable energy from the grid, supplemented by PV cells at roof level.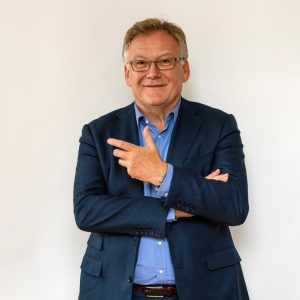 Patrick Bellew talks retrofit at the Built Environment Summit
The Royal Institute of British Architects (RIBA) and Architects Declare have announced the programme for the Built Environment Summit, a two-day hybrid conference on 28-29 October to unite built environment professionals ahead of COP26.
Our founder Patrick Bellew will be in conversation with Carl Elefante, Principal Emeritus and Director of Sustainability for Quinn Evans Architects, on 28 October looking at the intricacies and importance of retrofitting in tackling carbon emissions. From large scale projects to individual residences to heritage buildings; the two will explore the challenges and benefits of reusing, recycling, and adapting.
View the full programme and purchase your tickets here – we hope to see you there!